"Are You Here to Save Face — or Save Us?": Brittany Trilford, 17, Addresses World Leaders at Rio+20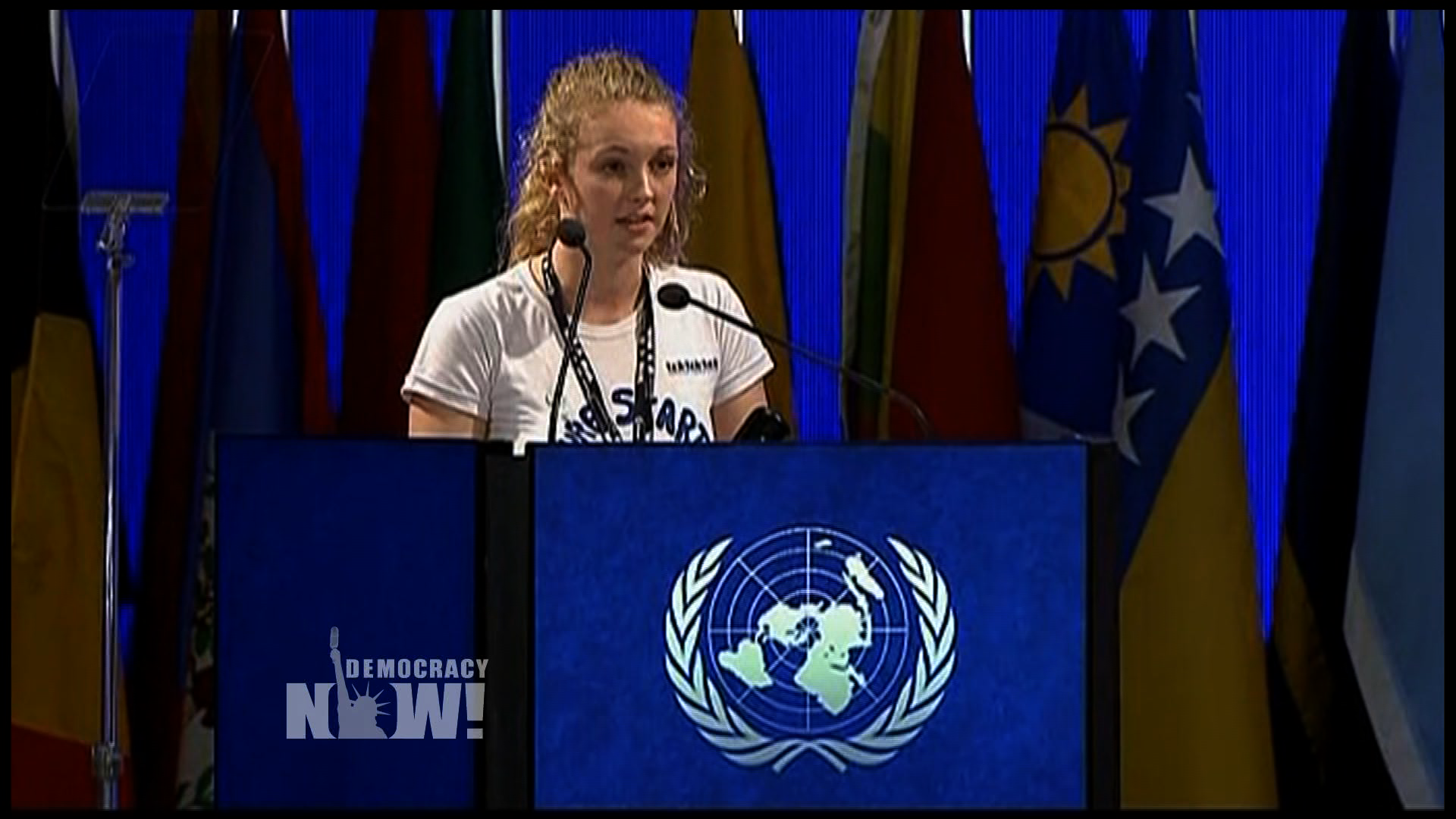 To actually hear her and see the reactions of the assembly is a treasure, rare and not to be missed.
or the URL at the top. -Ed
JUAN GONZÁLEZ: Leaders from more than a hundred countries are gathered in Brazil for the Rio+20 Earth Summit, the largest United Nations conference ever. The gathering comes 20 years after the 1992 U.N. Earth Summit in Rio de Janeiro, when leaders pledged to protect the planet by endorsing treaties on biodiversity and climate change. Since then, few of the development goals have been reached in areas like food security, water, global warming and energy. On Wednesday, Brazilian President Dilma Rousseff welcomed world leaders under a cloud of criticism that this new summit will fall far short of its promise to establish new goals.
PRESIDENT DILMA ROUSSEFF: [translated] We know that the cost of not acting will be greater than taking the necessary actions, even though they may face resistance and may end up being politically complicated.
JUAN GONZÁLEZ: A new report by Friends of the Earth International warns that multinational corporations such as oil giant Shell have an undue influence over the Rio+20 Earth Summit. Negotiators had already agreed on a draft before the heads of state arrived Wednesday. Many groups working on environmental and poverty issues have criticized the agreement for being too weak. This is Greenpeace political director Daniel Mittler.
DANIEL MITTLER: Any progress that you hear about in press conferences is about progress to water down the text, to avoid commitment, and to—in reality, governments are clearly here to do nothing and to commit to doing nothing.
AMY GOODMAN: Well, 20 years ago, a 12-year-old rocked the Earth Summit in Rio with a plea to world leaders to get serious about saving the planet. Her name was Severn Suzuki, and she'll join us later in the broadcast. She is back in Rio. But first we turn to another young environmentalist, 17-year-old Brittany Trilford of Wellington, New Zealand. On Wednesday, she addressed more than a hundred heads of state at the opening plenary of the Rio+20 U.N. Earth Summit. Listen carefully; the audio has some technical imperfections.
BRITTANY TRILFORD: Thank you, Secretary-General and leaders, for the opportunity to address this plenary. Tena koutou from New Zealand.
My name is Brittany Trilford. I'm 17 years old. I'm a child. Today, in this moment, I'm all children, your children, the world's three billion children. Think of me as half the world.
I stand here with fire in my heart. I'm confused and angry at the state of the world, and I want us to work together now to change this. We are here today to solve the problems that we have caused as a collective, to ensure that we have a future. You and your governments have promised to reduce poverty and sustain our environment. You have already promised to combat climate change, to ensure clean water and food security. Multinational corporations have already pledged to respect the environment, green their production, compensate for their pollution. These promises have been made, and yet still our future is in danger. We are all aware that time is ticking, and we are quickly running out. You have 72 hours to decide the fate of your children, my children, my children's children. And I start the clock now. Tick, tick, tick.
Let us think back 20 years ago, well before I was even an inkling in my parents' eyes. Think back here to Rio, where people met at the first Earth Summit in 1992. The people at the summit knew there needed to be change. All our systems were failing, collapsing all around us. And these people came together to acknowledge these challenges, to work for something better, to commit to something better. They made great promises, promises that, when I read them, still leave me feeling hopeful. These promises are left not broken, but empty. How can that be, when all around us there is knowledge that offers us solutions? Nature, as a design tool, offers insight into systems that are whole, complete, that give life, create value, allow progress, transformation and change.
We, the next generation, demand change, demand action, so that we can have a future. We trust you, in the next 72 hours, to put our interests before all other interests and boldly do the right thing. I am here to fight for my future. That's why I'm here. And I would like to end today by asking you to consider why you're here and what you can do. Are you here to save face? Or are you here to save us? Thank you.
AMY GOODMAN: That was 17-year-old Brittany Trilford, a young environmentalist from Wellington, New Zealand, addressing more than a hundred world leaders, business representatives, NGOs, during the opening plenary of the Rio+20 U.N. summit, the largest U.N. summit ever. She's joining us now from Rio de Janeiro, where the Rio+20 summit is taking place.
Brittany, welcome to Democracy Now!
BRITTANY TRILFORD: Hi.
AMY GOODMAN: What was it like to be up there? You're addressing the majority of the world's leaders. What do you expect to come from your speech and this summit?
BRITTANY TRILFORD: Well, it felt amazing. It was very nerve-racking, but very, very exciting. I hope that the world leaders can listen to my speech, that they feel what I was trying to say, that they understand the atmosphere and the ideas that I was trying to portray there, and that they're driven to fulfill the promises that I asked of them: to act now, to act urgently, and to act boldly.
JUAN GONZÁLEZ: And, Brittany, can you tell us something of your—how you first became involved in environmental activism, what prompted you, and how you ended up being chosen to make this presentation?
BRITTANY TRILFORD: Oh, sure. Well, I've always been really into youth affairs and giving youth a voice. And I received an email from one of the networks that I'm part of about this Date with History competition. And it's run by TckTckTck, a collaboration of over 300 NGOs. And they asked me to give a two-minute speech to the world leaders about the future that I want. And I completely jumped at it, because I have a lot to say about the future that I want. I have a lot of demands. And so, I thought, "Well, this is perfect." This is the—this is the audience that needs to hear this.
AMY GOODMAN: And how did you make your way from New Zealand to Rio? Were you a group of high school students? Who paid your way?
BRITTANY TRILFORD: Well, it was just me that went with the Date with History competition, and I joined the TckTckTck team over in Rio here. And I came along with my dad, as well, so he's here in Rio with me.
AMY GOODMAN: And in terms of what you hope to see take place, the whole issue of climate change, how does climate change affect New Zealand, where you come from, Wellington, New Zealand?
BRITTANY TRILFORD: OK, well, climate change affects everywhere in the world very dramatically, and it will continue to progress and sink deeper and deeper, and more of our systems will fail and collapse. So I think that in terms of how it affects Wellington, I think it affects Wellington just as much as other places all over the world. I mean, every day when I'm in Wellington, I see the effects of climate change. I can—it's snowing in Wellington. It hasn't snowed in Wellington for the last 50 years. So that's—it's just little things like that that are going to build and build into something really big and really irreversible, and something really awful.
JUAN GONZÁLEZ: After your presentation, did any of the delegates come up to you, talk to you directly or comment on your presentation and its impact, if any, on their work there?
BRITTANY TRILFORD: Yeah. I think—well, lots of the delegates and lots of people watching on TV and things like that responded really well. I think what I said, because it was so simplistic, because it was a 17-year-old's view of the moral truths of what is happening here, they could really relate to what I was saying, and I think it resonated with a lot of people. I think the delegates that did come up and comment to me, because it was so simple, they understood what I was trying to say, and they felt the passion, not just of me, but of all the youth that I was trying to share there.
AMY GOODMAN: Finally, Brittany, you only got five minutes, but that was five minutes where you were addressing the world. Is there anything you didn't get to say in that address that you had to edit out for time, and especially as you address young people around the world, many of whom may feel whatever they do does not make a difference?
BRITTANY TRILFORD: OK, well, something I have said in the other speeches, but not—that I couldn't particularly portray in the U.N. plenary was that this power of youth, this absolute—it's such a powerful force. And sometimes I think they underestimate themselves. We have tools and technologies available to us, like social media, like radio and TV, where we can share ideas, where we can communicate, where we can educate. And it's such a valuable, powerful tool. The voice of youth is so strong, so clear, so truthful. And I think that they can really not only speak truth to power like I did at the U.N. plenary, but they can take power. And I think that's really important to look at, and I think that's really something that the youth should take on board, should get involved with, should engage with. And I think it's really something I wanted to share at the U.N. plenary, for sure. And I think I'll continue to share that message through media like yourselves.
AMY GOODMAN: Well, Brittany Trilford, I want to thank you very much for being with us, from Wellington, New Zealand, now in Rio de Janeiro at the largest U.N. summit ever. Brittany was the winner of the Date with History competition, which is how she ended up giving this address to the world and the world's leaders. The competition asked young people to tell world leaders what they want for the future. I want to end up with a clip of those voices.
CLAIRE: You, me and seven billion human beings on this planet, we're pushing the limits.
BRITTANY TRILFORD: Our future is in danger.
ANDREW: We should be acting urgently, as if there is no tomorrow.
ANNIE: The earth is the most treasured possession that we have. There is nothing more precious or worth caring for.
FRANCISCO: We must do enwind the environment and the people, the same way the clownfish clings to the anemone for a support and survival of the two.
CAROLINE: The evolving technology today has presented us with opportunities to turn situations around to our benefit.
ALEXANDRA:* I see a world where we can better understand human nature, and not see the relationship as humans and nature or humans or nature, but just nature.
ANNIE: A world where we don't take our resources or each other for granted.
ELLIE: A world with biodiversity that is respected and protected.
PRASHANTH: I envision a world where an environmentally conscious mindset has taken root.
KHUSHALI: To see a future which sustains life.
KOLAWOLE OREOLUWA: Where green jobs and green products are available for human consumption.
KATHRYN: I want a future where no one goes to bed hungry at night, where everyone has access to education, and where there's no first world or a third world, there's just a world.
AMY GOODMAN: Young people talking about a Date with History. This is Democracy Now!, democracynow.org, The War and Peace Report. We're broadcasting to you with guests from Rio de Janeiro in Brazil, where the largest U.N. summit is taking place. Back in a minute.
---
No virus found in this message.
Checked by AVG - www.avg.com
Version: 2012.0.2179 / Virus Database: 2437/5087 - Release Date: 06/22/12